​
Home » Zbigniew Seifert
Zbigniew Seifert
Zbigniew Seifert (1946-1979) was a unique figure in the world of Polish jazz. Though he did not even live to be thirty-three and his musical output is modest, its artistic value still compels admiration and has a distinct impact on young artists. Joachim Ernst Berendt once said: "Zbigniew Seifert was one of those musicians thanks to whom so much good is now said in the world about Polish jazz." [1]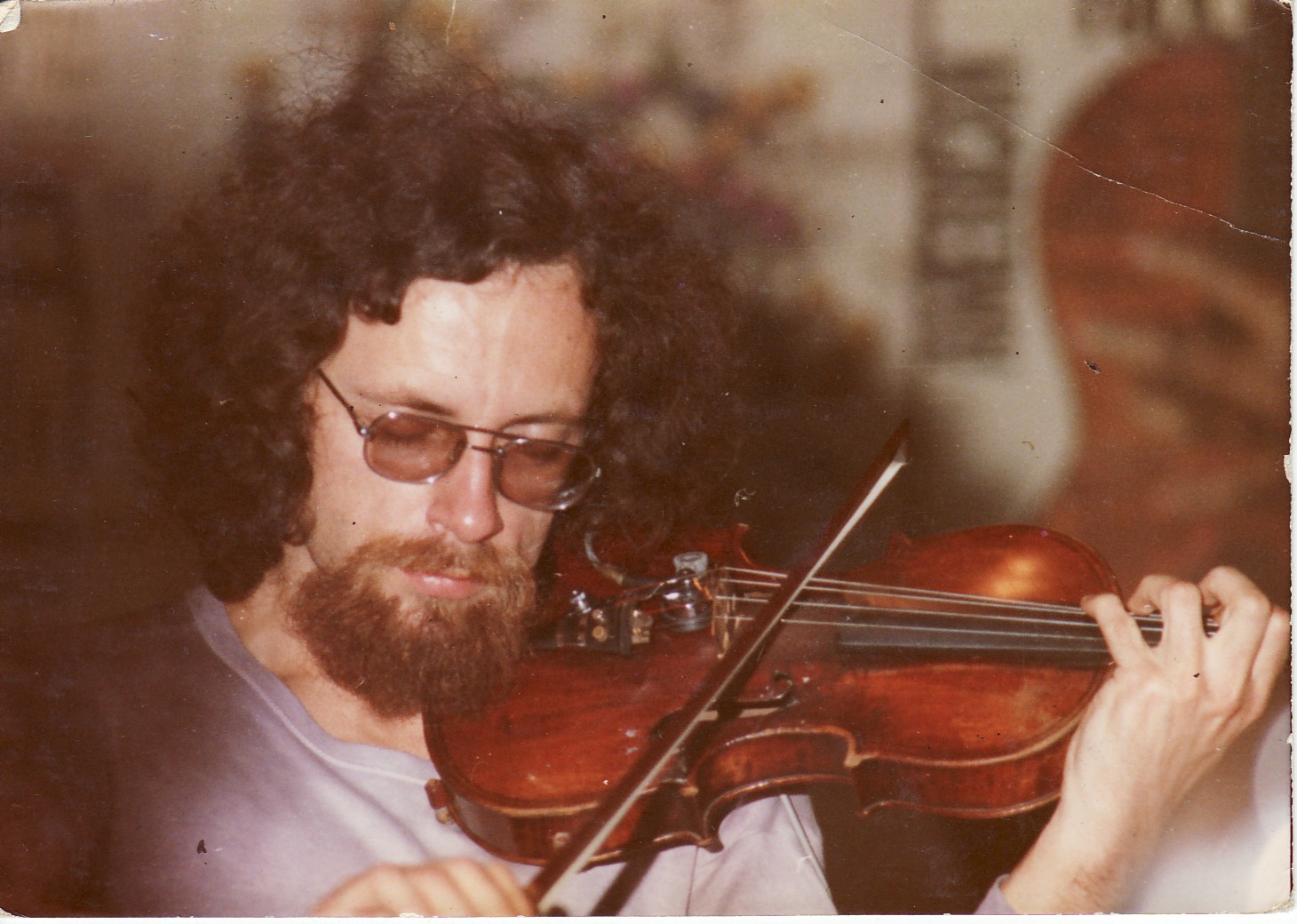 Born in Cracow, he was associated with that city almost throughout his life. It was there that he completed primary and secondary music schools and where he developed his abilities with the eminent violinist and tutor Prof. Stanisław Tawroszewicz. He continued his education in the State Higher School of Music in Cracow, also in Tawroszewicz's class. His passion for jazz started in secondary school, where he began to play the alto saxophone, and it was to jazz that he decided to dedicate his life.
The sax was his natural choice, as from the beginning he was fascinated with the music of John Coltrane. More or less in the same period, he set up his first ensemble - the Zbigniew Seifert Quartet - including Jan Jarczyk  (p), Jan Gonciarczyk  (b) and Janusz Stefański (dr).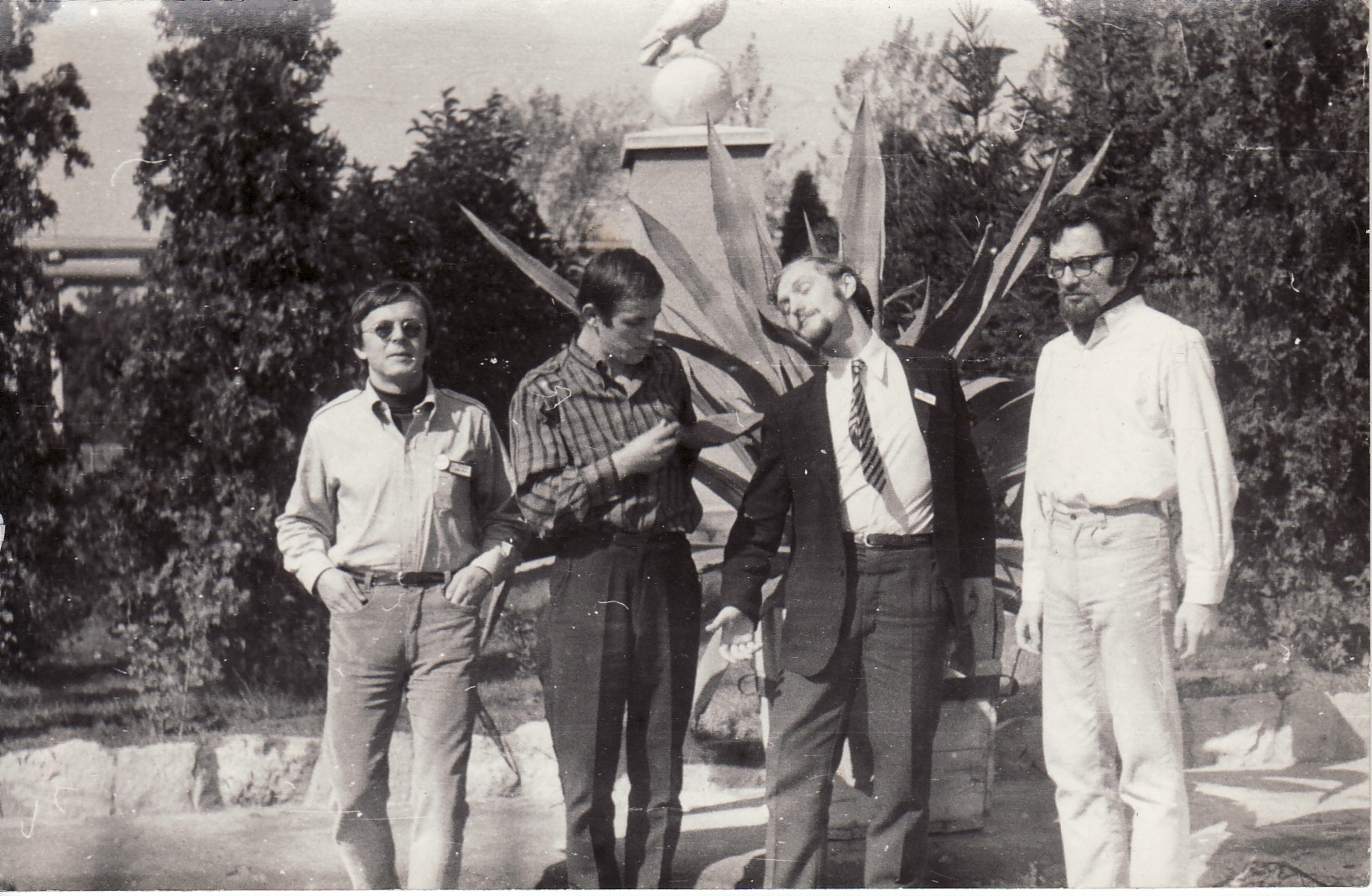 Uncompromising and very daring in their artistic aims from the very start, they won the 2nd (1968) and then the 1st (1969) prize at the Jazz on the Oder Festival, while Seifert himself took individual prizes. In 1969, they won the 1st prize at the Nagykőrős Festival in Hungary. All these achievements paved them the way to performances at the Jazz Jamboree. In 1968 the Quartet also drew the attention of Tomasz Stańko. In the late 1960s, the Zbigniew Seifert Quartet and the recently founded Tomasz Stańko Quintet performed simultaneously, but it soon turned out that the Quintet's popularity rendered it impossible for the musicians to work in both bands.  
For five years (1968-73), Tomasz Stańko Quintet, consisting of Tomasz Stańko  (tr), Zbigniew Seifert (sax, vn), Janusz Muniak  (ts), Bronek Suchanek  (b) and Janusz Stefański  (dr), was the flagship of Central European free jazz.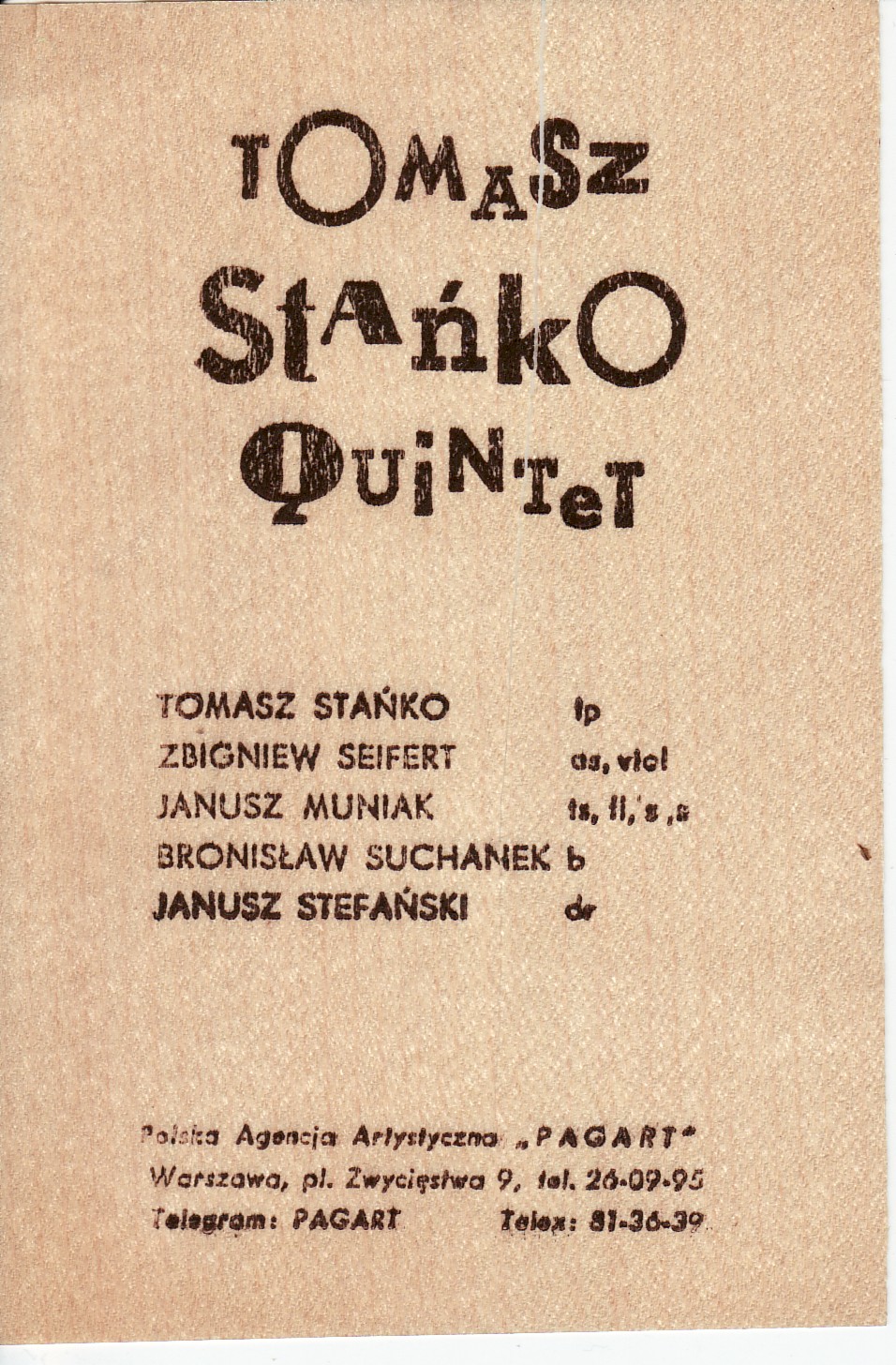 They made three records (Music for K, Jazzmessage from Poland and Purple Sun), and performed at Europe's most prestigious festivals such as Jazz Jamboree, Berliner Jazz Tage, International New Jazz Meeting Altena, and International Jazz Beat Festival Arhus. In the period of his work in the Quintet, Zbyszek underwent a kind of metamorphosis and already about a year after his graduation from the State Higher School of Music (degree in 1970) he resolved, at Stańko's instigation, to use the violin in the Quintet. This greatly enriched the ensemble's sound, while Zbyszek's original style added an extra flavour to the colour palette.
In Poland, Seifert recorded also for the Polish Radio Jazz Studio, headed by JP Wróblewski. The Quintet's sessions in that studio marked the heyday of the ensemble.
After the dissolution of the Quintet in 1973, Seifert moved to Germany, where he at once began collaboration with Hans Koller's band Free Sound. This was a repose after the highly demanding, avant-garde free jazz of Stańko's ensemble. From 1974 he recorded for Norddeutscher Rundfunk. Also in 1974, for the same radio broadcaster, he recorded his Concerto for improvising violin, rhythm section and symphony orchestra. In 1975, Seifert founded the international band Various Spheres, with changing line-ups. The original band included: Hans Hartman  (b), Michael Herr  (p), Janusz Stefański  (dr); the second line-up: Adelhardt Roidinger  (b) and Lala Kovacev  (dr). Gradually, Zbyszek matured to the point when he could start and follow his own musical path. A man who assisted him greatly in those efforts was Joachim Ernst Berendt, much appreciated in the jazz circles, who from the very beginning noticed Seifert's phenomenal talent and accompanied him till the very end, helping him in artistic projects and supporting him spiritually. The year 1976 was a breakthrough in Zbyszek's life. He recorded his first individual album, Man of the Light, produced by Berendt. About the musicians who accompanied him on that record, he said: " am happy that I could make this record with such a rhythm section: Cecil (McBee), Billy Hart, Joachim Kühn. That was the best thing that could happen to me" [2].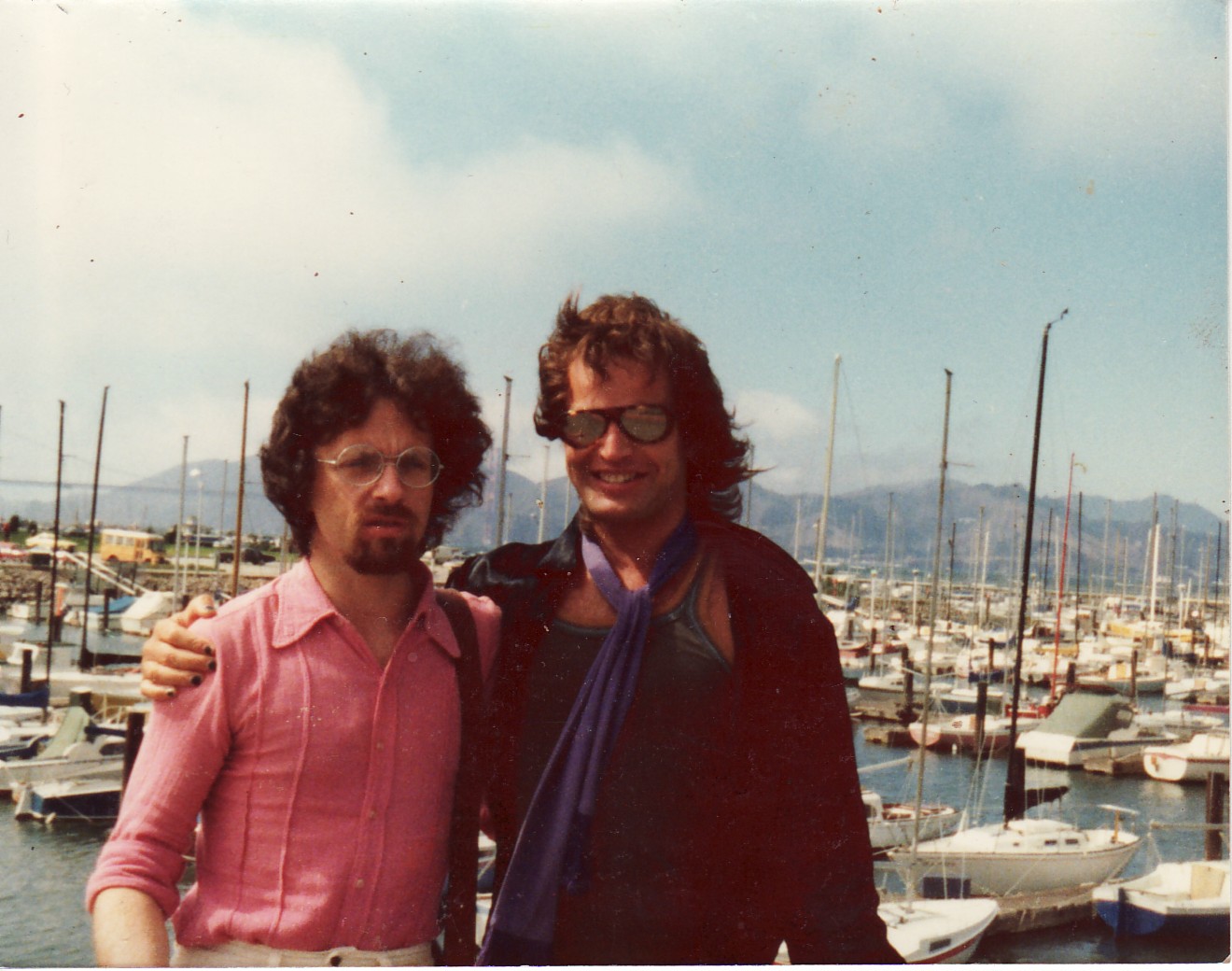 On the other hand, in April 1976 he learnt about his tumour, and from that moment his race against time began. Despite his extremely difficult situation, Zbyszek never gave up, strongly believed in his chances of recovery and made further artistic plans even when the diseases attacked his right hand for several months. He wrote to Janusz Stefański: "It's getting better now, Janusz, and I can move my hand 10-15 centimetres. I will have to play the sax. But I will play. [3] Seifert had great stamina, mental power emanated from him, though the illness stopped him from normal functioning and he frequently had to call off concerts. Michał Urbaniak once said: Zbigniew is strong inside, in his spirit, stronger than all that might happen to him. That's why he will overcome everything"[4]. Extremely significant to his career was the LP "Solo Violin", dedicated to his wife Agnieszka (Agnes). It contains more than 40 minutes of virtuoso violin playing in an authentic jazz fashion. In one of his interviews, Seifert stressed that he was not interested in easy violin fingering and that he derived all his inspiration from the music and techniques of John Coltrane, which was a neck-breaking enterprise considering the different nature of their instruments. "All the time, I set myself such stupid riddles, which I could easily play on the sax, but on the violin I must gradually work out what position I should use to perform them."

Seifert was becoming a more and more recognisable figure in the jazz world, and the listeners could not remain indifferent to his play. After Seifert's performance at the Danaueschingen Music Festival in October 1976, Albert Mangelsdorff said: "Zbigniew has a wonderful feel of the music. Of all that I can think of, his playing suits me the best"[5]. In one of the concerts in France, Seifert made such a huge impression on the members of the legendary band Oregon that they invited him to play with them - and this is how the LP "Oregon/Violin" was recorded in 1977. Also in 1977, thanks to Chris Hinze, with whom Zbyszek collaborated, Seifert made his first record under the American label Capitol: the LP "Zbigniew Seifert", maintained in the jazz-rock style that enjoyed much popularity at that time. Seifert yielded to the pressure of the producers, who turned the release into a purely commercial product, much removed from his own style. Seifert's second Capitol LP, however, was a realisation of his musical dreams. On the LP "Passion", Zbyszek was accompanied by such jazz giants as Jack DeJohnette (dr), John Scofield (g), Eddie Gomez (b), Richie Beirach (p), and Nana Vasconcelos (perc). "Passion" was, unfortunately, Seifert's last record. During the night of 14/15th February 1979, after two operations, he died of a heart attack in the Cancer Hospital in Buffalo.
Zbigniew Seifert was an extremely colourful and fascinating figure. His unique style left an indelible mark on the jazz violin practice. Apart from being an extraordinary musician, he was also a wonderful man. As Berendt put it: "Whoever writes about Zbigniew Seifert must also write about Seifert the man - humane, helpful and modest; about his sensitivity, which we in the West perceive as Polish in the best sense of the word" [6]. And later: " McCoy Tyner was for Zbyszek a 'Man of the Light'. It was to him that he dedicated the first track on his MPS record. But to us, Zbyszek's friends, he himself was the 'Man of the Light' "[7].
 [1] Jazz Podium No. 4/XXVI 1977
[2] J. E. Berendt, Commentary on the sleeve of Zbigniew Seifert's LP Man of the Light
[3] Joachim Ernest Berendt, "Żegnaj Zbyszku" [Goodbye, Zbyszek], (in: ) Jazz Forum No. 12 3/1979
[4] "Polonica, Zbigniew Seifert - romantyk na tropach Coltrane'a" [Zbigniew Seifert - a Romantic in the Wake of Coltrane], (in: ) Jazz Forum No. 48 4/1977
[5] Seifert - an interview with Janusz Stefański and Tomasz Stańko; (in: ) Jazz, 1979 No. 5
[6] Roman Kowal, "Polski jazz - Wczesna historia i trzy biografie zamknięte" [Polish Jazz - Early History and Three Closed Biographies], op. cit., p. 167
---
Zbigniew Seifert discography .pdf
Article by Stefano Pastor Zbigniew Seifert il Violinista di Luce 
---
A biographical movie about Zbigniew Seifert is being made by Erin Harper. More information: http://www.passion-themovie.com
Photo gallery: